Leaksafe were asked for recommendations for a leak detection system following a plumbing failure in the utility room in this property.
The best protection for any property is for the water main supply to be turned off whenever it is unoccupied, so we designed a system around our WaterSwitch3 shut off system, including a conveniently located wireless water on/off switch, leak detection tapes that signal the system to close the water shut off vales when in contact with water, and a flow meter to measure continuous flow over a programmable time period that would indicate a leak in the property.  This layered approach provided the best solution for the property.
The WaterSwitch system can be installed on pipework from 15mm – 100mm and this property is supplied by a 32mm incoming supply that requires a mains powered shut off valve alongside the 32mm flow meter.  These were installed in the plant room with leak detection tapes in the kitchen and utility room.  The system also includes one of our WaterComm notification devices to SMS and email the owner if an alarm is raised.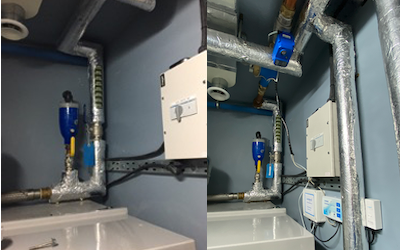 At the end of the installation our client wrote "your team of surveyor and installer were (a) polite, (b) on time and (c) efficient.  That is rare so thank you very much"