Following a £60,000 escape of water claim, Leaksafe were asked to survey and recommend a leak detection system for  a client where the insured's policy included a clause that entitled them to leak detection equipment to 10% of the claim value*.
Leaksafe install throughout the Channel Islands and have relationships with a number of property managers and contractors.  We visited the property and met with the client and their plumber who was very familiar with the property's plumbing design.
The property unusually has 2 incoming mains, one to the kitchen and one directly in to one of the two cylinder cupboards.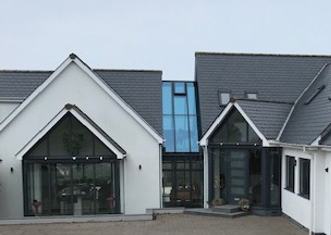 We recommended a "catch all" leak detection system that consisted of shut off valves on both incoming mains with a central wireless on/off switch so that the client could turn their water off when they left the property, leak detection tape in high risk areas where access was available – cylinder cupboards, kitchen & utility rooms, 2 of the ensuite bathrooms and the underfloor heating manifolds, and a flow meter to monitor for water usage that would indicate a leak from any area not covered by leak detection tape.
If a leak is detected either by water hitting a leak detection tape or abnormal water flow in the property then the valves on both incoming supplies are immediately closed and an audible alarm raised.
This client opted for an additional module that will SMS and email them if an alarm is raised.
*Subject to a maximum capped value.